This is no over-the-counter drug. Only a triple dose of prescription stuff could provide a cure for stress, despondency, and listlessness the way a ride in a Ford SVT Lightning does. But best of all, this four-wheeled elixir might just be a healthy investment, too.
The 1999-2002 Lightning is Ford's second entry into the "muscle-truck" category. The first member of this rough and rowdy group was introduced for 1993. These original Lightnings weren't supercharged or nearly as potent as the ones that follow it today. But they did have the benefit of a hot 351-cid V-8 that put out 240 bhp, 40 more than the 351 offered in regular F-150s—and five more than the 302 found in that year's Mustang Cobra (CA, August 1992). This version continued through '95, after which it took a hiatus while a newer, far-stouter successor was being developed.
The second-generation Lightning was introduced during '99, again based on the regular-cab F-150, but this time carrying Ford's bulged-fender Flareside bed. Power came from a supercharged 5.4-liter (330-cid) ohc V-8 with a cast-iron block, aluminum heads, and a forged-steel crankshaft. Mounted directly above the engine, atop a water-to-air intercooler, was an Eaton Gen-IV Roots-type supercharger set to deliver eight pounds of boost. Power was further increased by using a dual-bore 57mm throttle body similar to that of the Mustang Cobra.
The net result was an impressive 360bhp at 4750 rpm. But the real kicker was its brutal 440 pound-feet of torque, which peaked at a low 3000 rpm. All that power was run through a four-speed automatic transmission, fortified with beefier internal components normally used to handle Ford's Power Stroke turbocharged diesel.
Standard were wide, 18-inch alloy wheels shod with suitably massive 295/45ZR18 tires. Also part of the deal was an extensively upgraded chassis that aimed at near sports-car handling. Exterior modifications included a unique front fascia with round driving lamps, rocker-panel extensions, and two big, bright, three-inch exhaust tips.
But while that is certainly an impressive collection of parts, is the sum total a tempting collectible? Frankly, we weren't sure. To help answer the question, we put a 2001 Lightning through lots of good, hard testing—some 500 miles (and at least twice that many giggly grins) worth.
The '99 and 2000 Lightnings are almost identical, but our test '01 model had the advantage of that year's 20-horsepower increase to 380. Along with the extra power came a 3.73:1 rear axle ratio instead of the previous 3.55:1. Rounding out the mid-cycle freshening-up were new-design alloy wheels and a different front fascia that featured a billet-look grille insert. (The '02 gets only minor detail changes, so in terms of basic essence, the 2001 Lightning is a worthy representative of these trucks.)
Good performance—especially acceleration—always helps a vehicle's collectibility quotient. By that measure, the Lightning is pure gold. Its powerplant is the antithesis of peaky, turbo-style performance; it has an enormous powerband that allows it to pull hard and continuously from zero mph right up into triple digits. Punch it at any speed and you're greeted with gobs of deliciously satisfying acceleration. In fact, compared to Lightning's merciless big-block-style low-speed torque, even vaunted small-displacement V-8 hotties like today's Mustang Cobra, Camaro SS, or Corvette Z06 (CA, April 2001) feel soggy off the line.
Too bad that difference in power delivery isn't really communicated in the performance figures. Ford said the 2001 Lightning could go 0-60 mph in 5.8 seconds and run the quarter mile in 13.9. Those are certainly respectable numbers, but in most situations, the Lightning feels a lot stronger than that, especially at city-driving speeds.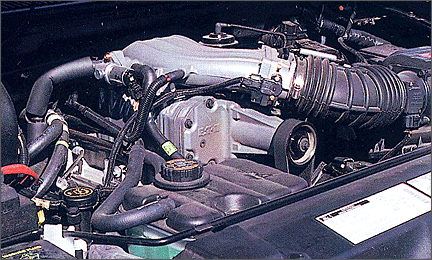 All that bottom-end power does have one slight drawback. Traction can sometimes be in short supply. Abruptly flooring a Lightning from a standing stop mostly gets you tire smoke and a pair of humongous black marks on the pavement—tangible reminders that traction control has never been offered. Some right-foot recalibration is necessary, unless, of course, big smoke shows are your thing. Put the pedal down and its slow, rumbly idle quickly transforms into a delightful roar, crowned with an intoxicating supercharger whine that could put a smile on the sourest of faces.
But, in contrast to a lot of machines that exhibit such bravado, the Lightning isn't an unwieldy, musclebound brawler. This is quite arguably the best-handling full-size pickup ever built. True, when winding through the twisties you're always aware that you're at the helm of a big, heavy vehicle—words like "lithe" or "spritely" never come to mind. You're not going to knock off Porsche 911 Turbos if you and your Lightning happen to find yourselves suddenly dropped into a road race. However, put this truck up against a decent sports coupe, such as a contemporary Mustang Cobra, and it might be a surprisingly close duel.
There's lots of grip, courtesy of the big, sticky 295 meats. Body lean is well controlled, thanks in large part to unique springs and gas shocks, plus thick front and rear stabilizer bars. Steering is handled via a recirculating-ball system identical to that of standard F-150s. But just as Ford claims, the Lightning's massive tires make it feel much more direct and communicative than do the skins on any of Ford's other big pickup models.
Complementing the extensively upgraded suspension are significantly improved brakes. Hefty four-wheel antilock discs from Ford's larger F-250 Super-Duty trucks are standard. The setup provides enough stopping power to control this heavy rig with satisfying authority.
So, the Lightning passes the performance part of our test with ease. How about the rest of the package? Attractive or unique looks are generally considered to be at least as important an ingredient for collectibility.
SVT's body mods add an appropriately tough appearance, and are quite nicely done. They're well integrated with the existing truck design, yet are different enough to be unmistakable at a glance from garden-variety half-ton Fords. Further enhancing the Lightning's custom-truck look is its low ride height; the suspension is dropped a half inch in front, two inches in back.
Inside the cab is a unique split-bench seat that has separate bucket-seat portions, each with high side bolsters covered in a grippy suedelike material. Nice. However, not so nice are the sprawling, utilitarian-looking plastic dashboard and door panel surfaces. They serve as a gentle reality check that this is, after all, basically the same truck that earns its keep slogging around jobsites for other folks.
After an all-too-quick couple of weeks, our allotted time in the Lightning came to an end (with some kicking and pouting on our part). It was clear from our testing that all the right pieces are here; this is a vehicle to watch in years to come. Adding further shine to its potential value are low production totals: 4000 for '99, 4966 for 2000, and an estimated 5900 for 2001.
Perhaps the most compelling evidence of this truck's future collectibility is already emerging among its true rivals. Only a handful of vehicles make up the relatively young muscle-truck category, but a disproportionate number of them—Dodge L'il Red Truck (CA, October 1991), GMC Syclone/Typhoon (CA, February 1992/June 1995), and Shelby Dodge Dakota—have already started to attract interest from collectors. This certainly bodes well for the 1999-2002 Lightnings, which have the extra advantage of being among the best performing of the pack.
Of course, there might be a few naysayers willing to argue that this fast, agile hauler won't eventually show up on buyers' hot lists. But when you get right down to it, who cares? Collectible or not, this is a great truck.